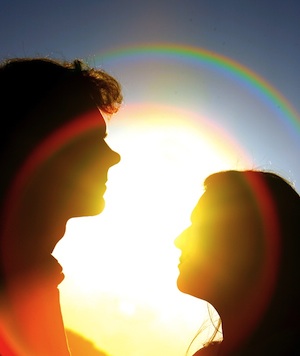 Of People and Not Things
'A new and thrilling piece of Fringe theatre ... performed with humour and depth of emotion. 4 stars.' - British Theatre Guide
Following success at the Cincinnati and Edinburgh Fringes in 2010, Distance Over Time brings Of People and Not Things home to the 2011 Hollywood Fringe for its West Coast premiere.
'The language is playfully musical..[a] warm, stylistically simple little gem. 4 stars.' - ThreeWeeks
Of People and Not Things is about a man and a woman searching for human connection in a world where people are harder to find; struggling to unearth meaning in the events that have brought them to this moment. It presents two interrelated monologues with subjective viewpoints, asking the audience to decide for itself where objective truth lies.
Part mystery, part love story, Of People and Not Things strives to find the humor and the heart at the end of the world. It's a piece that speaks softly so that it might be heard.
'Beautiful and evocative... this piece of theatre will stick with you because it's so human.' - Cincinnati CityBeat